In today's world, sermons are held on digital platforms. They are held on different online platforms but there arise some problems in managing them. Some Users work on WordPress but could not understand how to manage their sermons on their websites. In this Article , we will discuss about sermons, its digital presence and sermons manager for WordPress. So let's start!

Sermons are speeches or talks given by religious leaders, typically within a church or religious context. These presentations often focus on teachings, viewpoints of religious texts, moral guidance, spiritual encouragement, or addressing specific issues related to the community. They aim to inspire, educate, and guide individuals in their faith, offering perspectives and knowledge derived from religious text, beliefs, and traditions. Sermons are an integral part of religious gatherings, serving as a means to spread wisdom, build community connection, and encourage personal analysis and development. Now sermons are held on different topics 
Sermon Manager for WordPress
A WordPress plugin called Sermon Manager makes it simple to post sermons online. Features for adding speakers, series, subjects, books, and service kinds are included. Moreover, sermons, series, presenters, and subjects can all have picture attachments. Bib.ly makes it simple to incorporate Bible references, and lectures from well-known websites like Vimeo or YouTube can be embedded.
Sermon Manager Plugins for WordPress
There are many plugins for managing your Sermons on WordPress. Some of the main WordPress Sermon Manager Plugins are: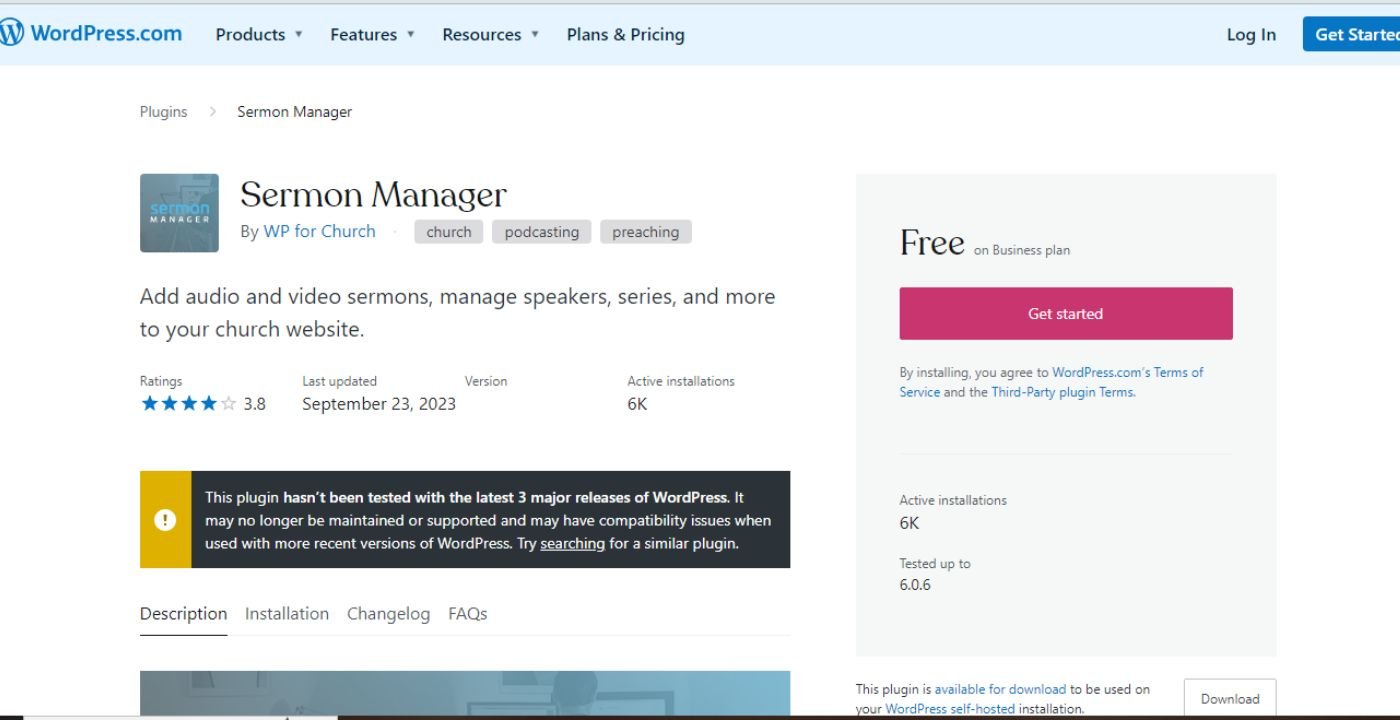 For effective connectivity, quickly classify and arrange sermons according to date, speaker, series, or topic.
 Transcripts, audio, and video files are all supported, which improves sermon participation and presentations.
 You can customize sermon descriptions, tags, and details to offer a variety of individualized and specialized material.
 Even for beginners, simple platforms make it easy to upload, manage, and schedule sermons.
Simple integration with a variety of WordPress themes and plugins ensures a uniform and visually appealing website experience
 Through this you can quickly and simply establish and manage sermon series, which facilitates the efficient arrangement and classification of related content.
 To accommodate a range of audience preferences, users can display sermons in a variety of formats, including written, video, and audio, thanks to the plugin's numerous presentation styles.
Series pages that can be easily customized by changing layouts, colors, and themes to match the style and identity of your website.
 Use the integrated analytics to learn more about sermon engagement. Monitor views, downloads, and user interaction to measure your sermons' effectiveness and popularity.
Series Engine ensures connectivity with various WordPress themes and plugins and offers dependable customer service, helping consumers with any technical questions or problems they
 With the help of advanced sermon plugins, sermon presentations can be enhanced by the smooth integration of multimedia content in a variety of media forms, including audio, video, and transcripts.
 By allowing users to modify sermon details like dates, presenters, series, or subjects, participants may easily categorize and search sermon content.
 These plugins make it easier to find particular sermons or themes throughout large databases by providing strong search capabilities and tagging possibilities.
 Automation features allow sermon releases to be scheduled, which provides timely publication and regular audience participation.
 Advanced sermon plugins are made to work with a wide range of WordPress themes and provide dependable customer service to help users with questions or technical problems.
 With simple-to-use tools, leaders and ministries may effectively manage sermon content by uploading, organizing, and displaying sermons.
Easily plan and organize church activities, calendars, and timetables to promote community cooperation and communication.
 Promote cooperation and efficient organization within church organizations by simplifying team management through the assignment of roles, tasks, and duties.
 Make safe and practical online donation methods available to members so they can easily support the goals and operations of the church.
 Get access to a range of easily adjustable templates and designs made specifically for churches. These templates make it simple to create and modify websites that accurately represent the mission and identity of the church.
 Requires no complex settings and integrates with your WordPress website with ease.
Provides a simple dashboard for managing, classifying, and uploading sermons.
 Allows the posting of various multimedia forms, such as audio, video, and transcripts, to present sermons in their completely.
Provides the ability to modify sermon information, categories, and search parameters to meet particular organization requirements.
 Makes it simple for audiences to access sermon archives with well-organized content and strong search capabilities.
Importance of Sermon Manager Plugins for WordPress
WordPress plugins for sermon management are important because they make it simple for churches and other organizations to publish sermons online. A wide range of features offered by these plugins facilitate the effortless management and arrangement of sermons, including the use of graphics, Bible references, and videos. They can help in making sermon pages easier to read and search engine friendly. All things considered, sermon manager plugins can be a useful resource for any church or group that wishes to spread its message globally.
Podcasting (Sharing Sermons)
The technique of creating and publishing audio or video content online is called podcasting. Typically, podcasts are released as a sequence of separate episodes, or in an episodic format. Computers, smartphones, and tablets are just a few of the devices that can download or view episodes.
Sermons can be broadcast and made public to a larger audience through podcast channels. Podcast channel generation is usually included in WordPress plugins for sermon management. It is possible to upload these files to podcast directories like iTunes and Google Play, allowing others to subscribe to your sermons and play them on their preferred podcast player.
To sum up all , sermon management optimization is essential. Presented as a comprehensive solution, Sermon Manager for WordPress enables preachers and organizations to arrange, compile, and deliver sermons with ease. Take use of this tool to improve your online presence and strengthen your relationships with your community.