So, Let's discuss about vps reseller white label hosting its benefits, who provides this hosting and how is effects our online presence
What is VPS Reseller White Label?
VPS Reseller White Label, commonly known as Private Label Virtual Private Servers, is a hosting service that allows individuals or businesses to resale Virtual Private Servers under their own brand name. It provides a flexible and customizable approach to hosting services, allowing resellers to market VPS packages as their own while a parent hosting company manages the infrastructure and support.
Benefits of VPS Reselling
VPS reselling presents Various benefits:
VPS reseller hosting is affordable since you do not need to invest in server infrastructure or maintenance. You can establish your own hosting company for very little money.
White label VPS reseller hosting offers you to customize your hosting plans, control panels, and branding. It allows you customize services to your clients' individual requirements.
You may quickly expand up your hosting business by adding more VPS resources as it grows. This scalability ensures that your hosting services can meet your clients' growing needs.
VPS reseller hosting exceeds shared hosting in terms of performance. Your clients' websites will load faster and operate better with dedicated resources.
Minimal Technical Expertise
VPS reseller hosting is designed for individuals and organizations with low technical expertise. Even those without significant technical skills can manage and resell hosting services .
It allows you to establish a professional and customized hosting service under your own brand. It allows you to create trust and recognition in the hosting industry while providing your clients with an effortless, customized experience.
Right VPS Reseller White label Hosting Provider
We have to consider the following factors while choosing the right VPS reseller white label hosting provider
1.Server Resources
Make sure that the provider provides sufficient server resources, such as CPU, RAM, and storage, to satisfy the needs of your clients.
2. Customer Service
Reliable client service is essential. Look for a service provider that provides 24/7 customer support to address any concerns as soon as possible.
3. White Label Reselling
Select a provider that provides white label reselling, which allows you to brand the hosting services as your own.
4. Costing
Compare price plans to discover a provider who offers reasonable charges for the services you require.
Top 5 VPS Reseller White Label Hosting providers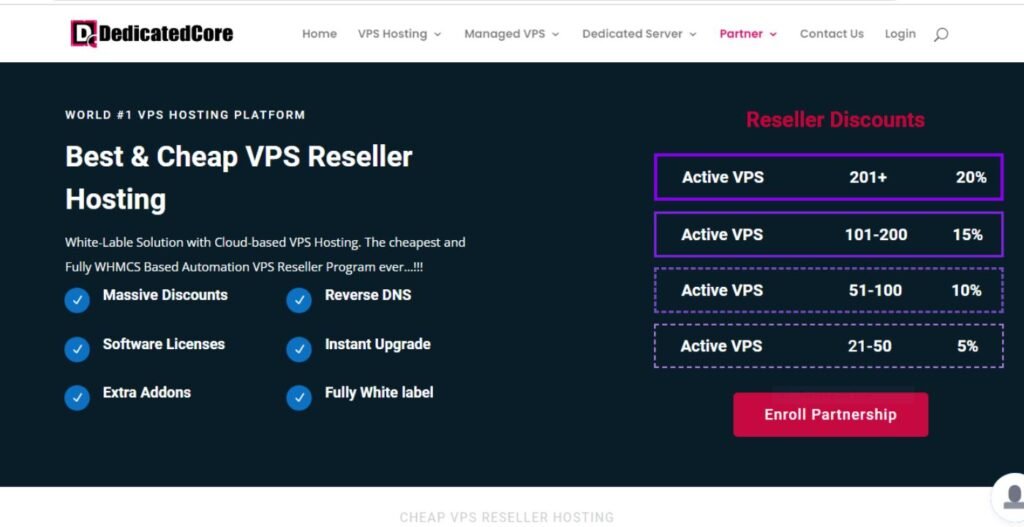 Finally, VPS reseller white label hosting develops as a profitable and accessible way for individuals and businesses to enter the hosting industry. It provides a competitive advantage because to its capacity to personalize and brand hosting services, low technical expertise requirements, and scalability. Choosing the appropriate VPS reseller white label provider is critical to success, and resellers can confidently expand their hosting businesses with the help of favorable client feedback. As technology and online presence evolve, this hosting solution enables resellers to provide dependable services under their own brand, contributing to a strong and competitive market presence.